Dna
by
Ture Design
The result is an appealing piece of furniture with a particular helix shape, each step of which corresponds to a seat suitably separated from the others. Dna is also available in a version upholstered in leather or fabric. Thanks to its adaptability and sturdy craftsmanship, Dna is the perfect addition for hospitality sittings like lobbies, lounges and open group study/meeting rooms. Dna is also available in the upholstered collection, in fabric or leather.
Inspired by the dynamic forms of biogenetics, the Dna modular bench consists of a single element of curved plywood, assembled specularly.
Torro & Torro-Station
by
Mobica+
torro
is the new all round saddle-chair for public areas. As a seating or a mobile companion in the cross area, it offers the user a variety of features. It is made of polyurethane and has a soft surface that is pleasant to touch and offers high stability. In addition,
torro
places a strong emphasis on design and colours in the area.
torro
can be stored in the
torro-station
to save space. The station can also be used as a useful bench and in combination with
torro
a flexible seating group.
torro
is designed using the "saddle principle" which enables a balanced and active posture for the user.
Meetup by Aurora

Libraries are more willing to set up communication and interaction spaces to support the interactive mode under the innovative economy. In this context, Meetup modular sofa came into being.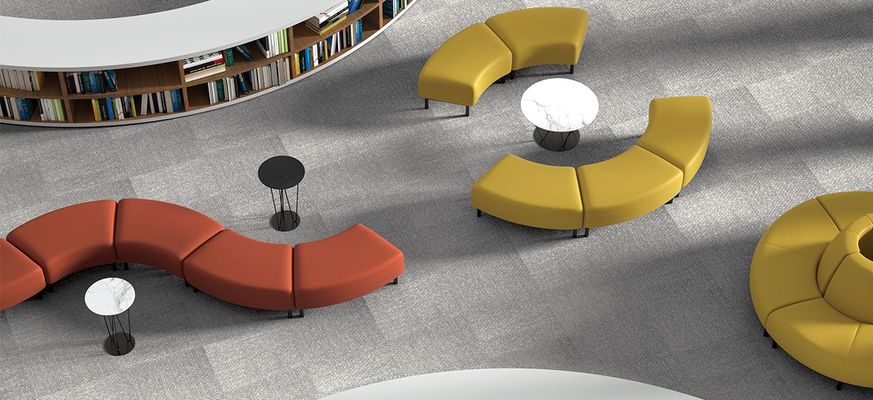 CODE
training table
by
Aurora
Coding Based On Your Needs.
Size H: W1200/1400/1600/1800 x D800 x H740 mm, Material Steel frame, plywood top
Colour: Walnut/dark walnut/white/oak

F-T Folding Training Table & Chairs Set
Instantly turn any open classroom or conference center into an educational and collaborative environment. The F-T folding training table and folding chairs are designed to be set up and put away easily.
Code by Ture Design
An easy, Flexible seating system, suitable for any space thanks to the infinite syntactic possibilities. Code identifies an aesthetic-formal code of simple geometric signs that constitute an alphabet of informal seats: poufs and maxi poufs that are enriched with backs and integrated tables.

Stone by True Design
A perfect interlock-game for a collection of padded poufs with different shapes and sizes. The single modules can be combined and reconfigured thanks to a quick connection system, creating an everchanging sofa island.